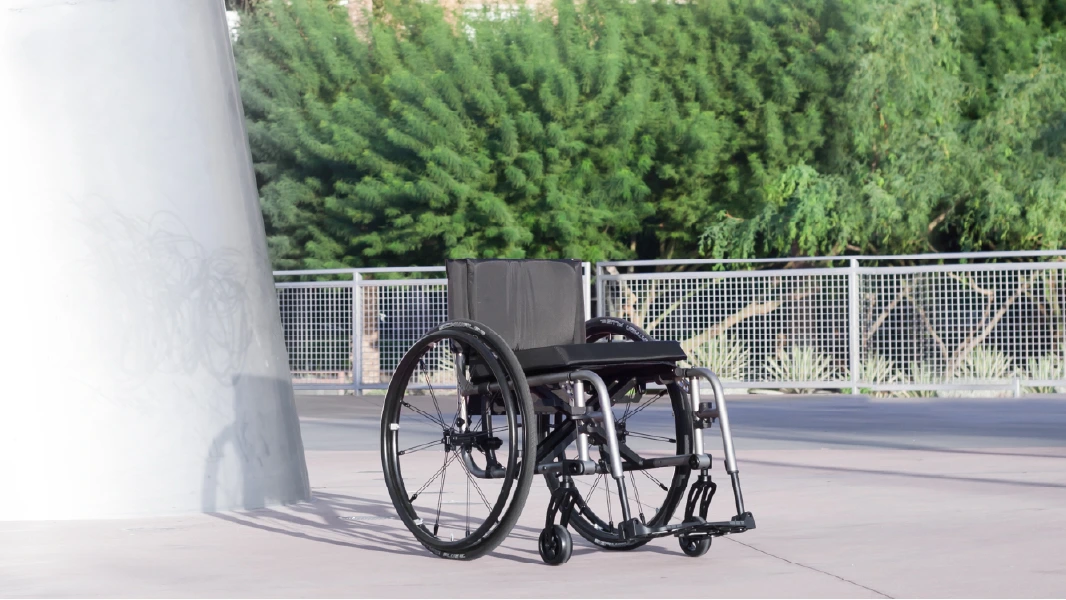 TiLite 2GX
Titanium performance.
The 2GX combines the advantages of a modular folding frame with the high strength and vibration dampening characteristics of titanium. Add full adjustability and the 2GX is designed to empower – no matter where you choose to roll.
Find a Dealer
Powerful features
Modular Design

The modular frame design of the 2GX facilitates configurability in the field. This includes adding aftermarket seating systems, switching fixed and swing away front ends, and growing chair width and/or depth to meet changing customer needs.

Full Adjustability

The Tru-Fit system opens up the world of adjustability by incorporating an infinite adjustment mechanism. The Tru-Fit system allows you to fine tune the fit of your wheelchair because you are not limited to a series of pre-set holes.

Folding Frame

The 2GX folding frame is compact, with a fluid, easy-to-use folding mechanism. Side-to-side folding minimises the folding width and maximises ease of transportation. These features are "must have" advantages for anyone who chooses a folding chair.
Frame colours
Colours represented on our website are for reference only. Please see your local provider for actual colour samples.
High Gloss Paint
Metallic Paint
Matte Paint
Pearlescent Paint
Candy Paint
Matte Textured Paint
Natural Titanium (Titanium chairs only)
Colour Anodise Package

💬 No translation data
💬 No translation data
Folding
💬 No translation data
Titanium
💬 No translation data
Fixed Front End, Swing Away (All-In-One Swing In, Swing Out, & Removable), Hemi Height Frame, Heavy Duty Frame, Power Adaptable Frame, Reinforced Frame
💬 No translation data
Full adjust
💬 No translation data
Optional
💬 No translation data
Fixed Front End, Swing Away (All-In-One Swing In, Swing Out, & Removable), Hemi Height Frame, Heavy Duty Frame, Power Adaptable Frame, Reinforced Frame
💬 No translation data
0°, 2°, 4°, or 6°
💬 No translation data
Fixed Front - 70°, 80°, or 85°, Swing Away - 70°, 80°, 85°, or 90°
💬 No translation data
Standard Taper
💬 No translation data
Folding Seat Back
💬 No translation data
6 ''
💬 No translation data
Transport Bracket
💬 No translation data
Full assistance, Both legs mostly, Hemi (one leg and one arm)
💬 No translation data
120.2 kg
💬 No translation data
Manual
TiLite Aero X + 2GX - Owners Manual (enUS)
Spare Parts
TiLite Components Library - Table of Contents
Spare Parts
TiLite Components Library - Section 02: Frames and Footrests
Spare Parts
TiLite Components Library - Section 03: Backrests
Spare Parts
TiLite Components Library - Section 04: Armrests
Spare Parts
TiLite Components Library - Section 05: Seat Slings, Back Upholstery and Cushions
Spare Parts
TiLite Components Library - Section 06: Axel Plates and Axels
Spare Parts
TiLite Components Library - Section 07: Wheel Locks
Spare Parts
TiLite Components Library - Section 08: Casters, Forks, and Caster Caps