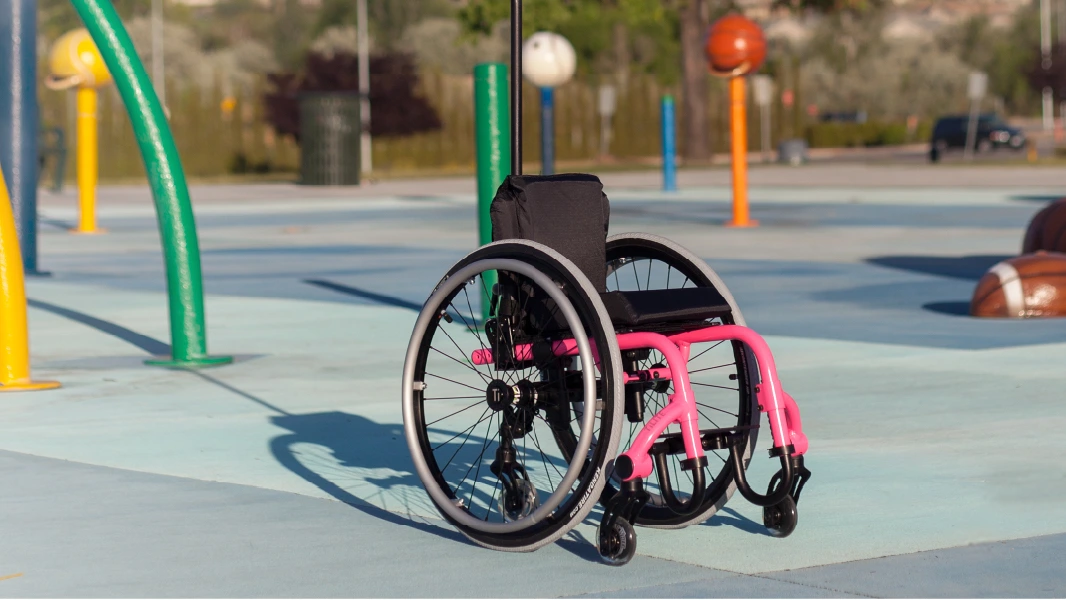 TiLite Twist
Easy manual mobility for kids.
Designed from the ground-up for kids, the Twist encourages exploration, independence, and playfulness. There are no parts or growth kits to buy. Instead, the Twist grows with you.
Find a Dealer
Growable

Other chairs say they grow, but new parts or growth kits are required. With the TWIST, growth is built in. Sized from 8″ x 8″ up to 15″ x 16″, the TWIST offers 2″ of growth in seat width and 3″ of growth in seat depth.

Full Adjustability

The Tru-Fit system opens up the world of adjustability by incorporating an infinite adjustment mechanism. The Tru-Fit system allows you to fine tune the fit of your wheelchair because you are not limited to a series of pre-set holes.

Parent Friendly

If your child is tired, a hill looms ahead, or you just feel like lending a hand, welcome to the TWIST Center-Mounted Push Handle option. Height-adjustable, and easily removable, the handle is there when you want it and not when you don't.
Frame colours
Colours represented on our website are for reference only. Please see your local provider for actual colour samples.
High Gloss Paint
Metallic Paint
Matte Paint
Pearlescent Paint
Candy Paint
Matte Textured Paint
Natural Titanium (Titanium chairs only)
Colour Anodise Package *matching Spinergy wheels sold separately.

💬 No translation data
💬 No translation data
Mono-Tube
💬 No translation data
Rigid,
💬 No translation data
Aluminium
💬 No translation data
Abduction Frame
💬 No translation data
Full adjust
💬 No translation data
Abduction Frame
💬 No translation data
5 kg
💬 No translation data
0°, 2°, 4°, 6°, 8°, or 12°
💬 No translation data
70°, 80°, or 90°
💬 No translation data
Standard Taper
💬 No translation data
Folding Seat Back
💬 No translation data
6 ''
💬 No translation data
Transit Tie-Down
💬 No translation data
Depth, Width
💬 No translation data
74.84 kg
💬 No translation data
Brochure
TiLite Twist Flyer
Brochure
TiLite Comparison Matrix
Brochure
TiLite Options Brochure
Brochure
Rental Brochure (AU)
Manual
TiLite Twist - Owners Manual (enUS)
Manual
TiLite Twist - Transport Brackets Supplement (enUS)
Spare Parts
TiLite Components Library - Table of Contents
Spare Parts
TiLite Components Library - Section 02: Frames and Footrests
Spare Parts
TiLite Components Library - Section 03: Backrests