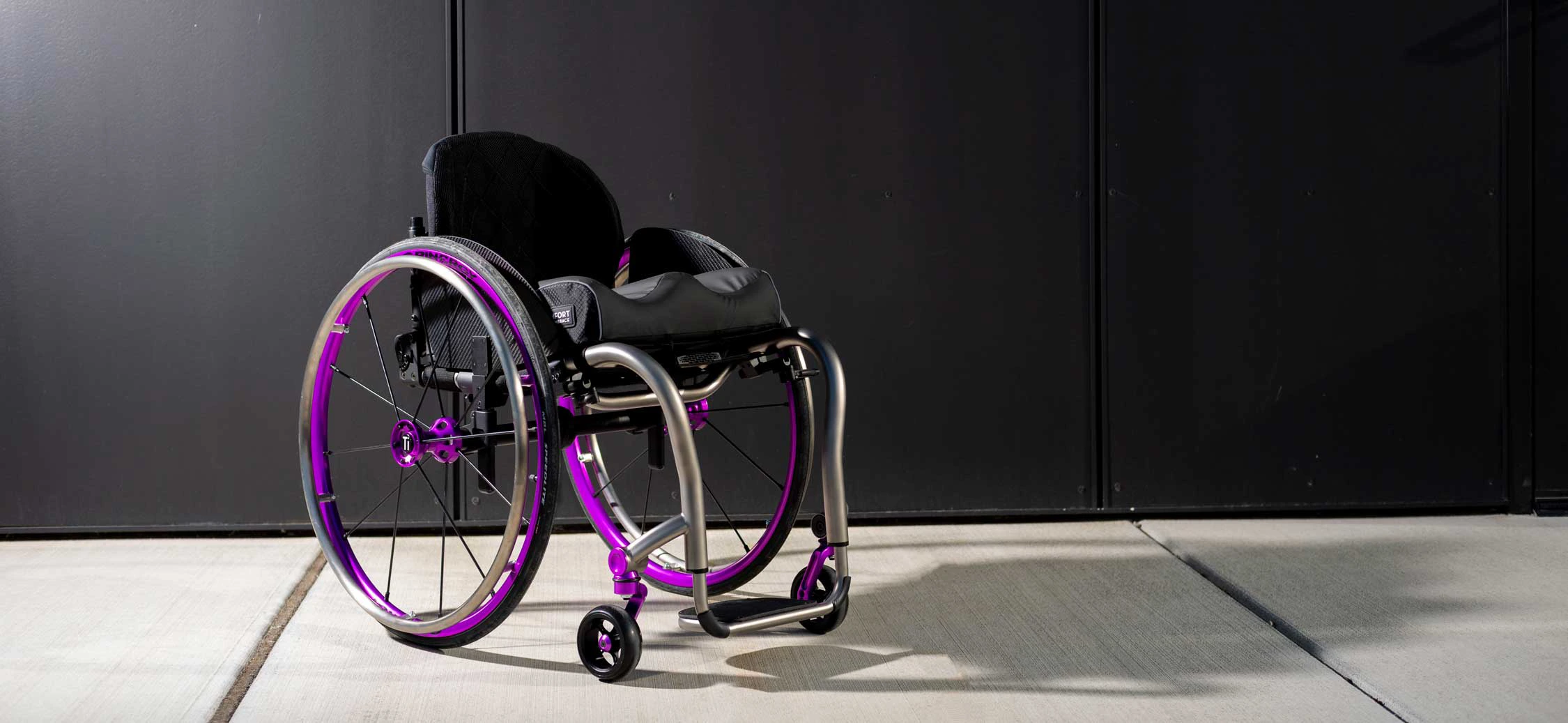 TiLite ZRA
No boundaries.
With full adjustability and a minimalist mono-tube frame, the ZRA dishes out style without boundaries. Add the ZRA's TiFit titanium frame, and you have the complete package. Strength, style, and the ability to set-up and configure your chair just for you.
Find a Dealer
Powerful features
Rigid

Rigid frame chairs are the lightest and highest performing chairs because they are constructed from the fewest possible components and have the fewest moving parts.

Full Adjustability

Precision Lock technology from Permobil is the most intuitive and easy-to-use adjustment system on the market. Together, the Precision Lock caster and back angle adjustments compose an exact fit and effortless ride.

Mono-Tube Edge

Distinguished by a clean, modern look, the mono-tube frame's 1.25″ tubing gives the ZRA strength and durability. The frame shape affords excellent transportability and easy placement on a car seat. Round off the ZRA's frame with curved, ovalised caster arms.
Frame colours
Colours represented on our website are for reference only. Please see your local provider for actual colour samples.
High Gloss Paint
Metallic Paint
Matte Paint
Pearlescent Paint
Candy Paint
Matte Textured Paint
Natural Titanium (Titanium chairs only)
Colour Anodise Package *matching Spinergy wheels sold separately.

💬 No translation data
💬 No translation data
Mono-Tube
💬 No translation data
Rigid
💬 No translation data
Titanium
💬 No translation data
Black Edition, SuperLite Edition, Heavy Duty Frame, Power Adaptable Frame, Reinforced Frame
💬 No translation data
Full adjust
💬 No translation data
Optional
💬 No translation data
Black Edition, SuperLite Edition, Heavy Duty Frame, Power Adaptable Frame, Reinforced Frame
💬 No translation data
5 kg
💬 No translation data
0°, 2°, 4°, 6°, 8°, or 12°
💬 No translation data
70°, 75°, 80°, 85°, or 90°
💬 No translation data
Standard Taper or V-Front End
💬 No translation data
Folding Seat Back
💬 No translation data
6 ''
💬 No translation data
Transit Tie-Down, Transport Bracket
💬 No translation data
Full assistance
💬 No translation data
120 kg
💬 No translation data
Manual
TiLite ZRA + Aero Z - Owners Manual (enUS)
Manual
TiLite ZRA + Aero Z - Transit Supplement (enUS)
Spare Parts
TiLite Components Library - Table of Contents
Spare Parts
TiLite Components Library - Section 02: Frames and Footrests
Spare Parts
TiLite Components Library - Section 03: Backrests
Spare Parts
TiLite Components Library - Section 04: Armrests
Spare Parts
TiLite Components Library - Section 05: Seat Slings, Back Upholstery and Cushions
Spare Parts
TiLite Components Library - Section 06: Axel Plates and Axels
Spare Parts
TiLite Components Library - Section 07: Wheel Locks