/

Stockholm Fashion Week: "Who Chairs? – Don't worry I'll bring a ramp" takes to the stage
Stockholm Fashion Week: "Who Chairs? – Don't worry I'll bring a ramp" takes to the stage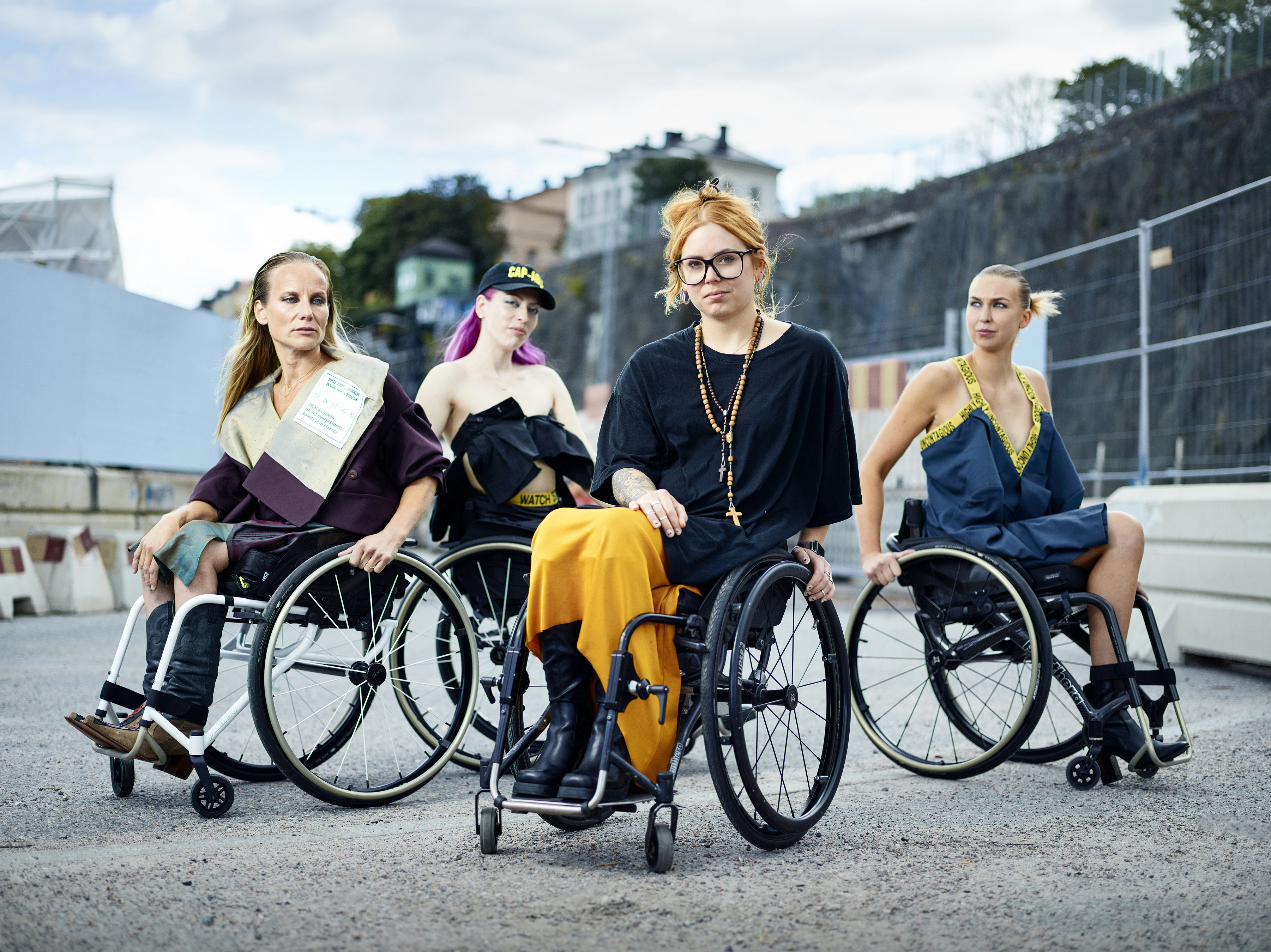 Lou Dehrot's models at Stockholm Fashion Week 2022
New collection highlights ableism of fashion and the needs of wheelchair users.
During Fashion Week, Louise Linderoth, the designer behind the Lou Dehrot fashion brand, showed her graduation collection "Who Chairs? - Don't worry I'll bring a ramp". It is based on second-hand suits reconstructed for the sitting position of active manual wheelchair users. The message of the collection is clear: inclusion for wheelchair-using models. A big step for the industry is that Louise's show uses models in wheelchairs, however, hers is the only show in Stockholm Fashion Week to do so.
Louise Linderoth is now taking her master's degree from Borås Textilhögskola. She is behind the clothing brand Lou Dehrot, which designs high-end fashion clothing for people in wheelchairs. The brand challenges traditional notions of the fashion industry and emphasizes that authentic representation matters.
"The collection's subtitle: "Don't worry I'll bring a ramp", is a response to the Designers' Nest competition. In 2018 I was denied showing my collection at Copenhagen Fashion Week with models in wheelchairs. The organizers claimed they could not afford to build a ramp," says Louise Linderoth, the designer behind Lou Dehrot.
Permobil supports Louise with models and wheelchairs from Panthera at the fashion show. The collaboration is a continuation of this spring's joint initiative: My Capability, where together we want to drive change and create greater diversity and inclusion.
"Louise is an inspiration and an important role model. The fact that her graduation collection is shown at Stockholm Fashion Week is a step forward for integration into society. It is through representation that we influence attitudes and change to see opportunities and abilities in each individual," says Martinus Rönnerman, Vice President Group Communications at Permobil.
The collection "Who Chairs? - Don't worry I'll bring a ramp" consists of five outfits based on second-hand suits, reconstructed for the sitting position of active wheelchair users. Suits are typically difficult for wheelchair users to wear - functionally but also how they look and to be a comfortable fit as the material folds, pulls and tightens. For example, it was important to design a jacket that allowed movement in the arms and upper body, without the material interfering with the wheels.
"In the collection there is an underlying layer of activism against a very relevant issue for me which is ableism*. As a person with disabilities and a wheelchair user in today's society, you are often met with both conscious and unconscious derogatory treatment and comments, before a chance to show your ability," says Louise Linderoth.
The collection is based on the ableist assumption that a person with a disability would be fragile, contagious or a package to be transported. Classic packaging labels and warning signs have been reimagined and recontextualized in a fashion context and added to the garments themselves: Fragile has become Not fragile, and Highly contagious has become Highly uncontagious.
"In the future, I want to work more commercially. I also want to do research into ableism and fashion, how the ideals are created and why we follow them, which norms affect what is considered right and wrong and how we can develop the fashion industry to be about clothes for all the people who enrich the world, rather than what ideals are usually followed. Clothes are for people, and should be adapted accordingly, not the other way around," says Louise Linderoth.
*Ableism – is a collective term for, for example prejudices about, differential treatment and exclusion of people with disabilities.
The models during Stockholm Fashion Week
The three models who took part in Louise's fashion show are wheelchair users themselves and are committed in different ways to challenging the prejudices they face and helping others in the same situation.
Hillevi Hansson, professional wheelchair basketball player, having played for Germany's Köln 99ers, Turkey's Pendik and will join Spain's Amfiv Vigo. She alternates basketball with work at RG Aktiv Rehabilitering. She is an ambassador for Loka Heroes, an initiative of the Swedish Basketball Association.
Charlotte Sjöberg, research and development coordinator at the Spinalis Foundation whose main goal is to promote research and treatment development in the area of spinal cord injury. She is an active racer and has two children.
Helle Andersson, together with Louise Linderoth and other spinal cord injured women, created GirlsonWheels. They want to motivate and inspire others who find themselves in a similar situation.
__________________________________________________________________________ 
About Permobil
Permobil founder Dr. Per Uddén believed that helping individuals achieve the greatest level of independence is a basic human right and, for over 50 years, that has been the driving force behind our innovative assistive technology. We are passionate about understanding our users' needs and helping them live life to the fullest. We are a global leader in trusted healthcare solutions for power and manual wheelchairs, seating and positioning products, and power assist. Permobil is part of Patricia Industries, a subsidiary of Investor AB and is headquartered in Sweden. Permobil has 1700 team members in more than 15 countries around the world. For more information regarding the company's storied history and complete product line visit permobil.com.
About Louise Linderoth
Louise is a young successful Swedish designer from Örebro, Sweden. She is educated at the University of Textiles in Borås (Borås Textilhögskola) and designs clothes for people who use wheelchairs. Her creations are a combination of aesthetics and fit - to stand out while making the garments follow and work with the body, instead of against it. Louise's graduation collection in 2017 consisted of a conceptual jeans collection called "Have a seat". With the same construction method, a collection of everyday jeans was subsequently launched in collaboration with the clothing chain Gina Tricot. Lou Dehrot is Louise's own clothing brand. Louise herself uses a wheelchair due to a spinal cord injury she received when she was 10 years old.