/

Permobil Foundation celebrates 'mother of disability rights' Judy Heumann with Hero Award
Permobil Foundation celebrates 'mother of disability rights' Judy Heumann with Hero Award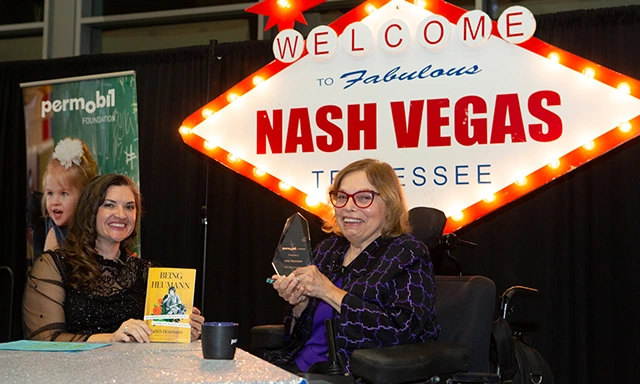 Presentation took place at the Roll the Dice fundraising and awareness event on Oct. 6.
Nashville, TN, Oct. 10, 2022 – For their fourth annual event, Permobil Foundation welcomed Judy Heumann as the keynote speaker to a delighted audience of over 250 Permobil employees, sponsors, and wheelchair users. Heumann took part in a fireside chat with Amy Burnett and was presented with the Hero Award for the impact she has made advocating for the disability community throughout her life.
"For more than 30 years, Judy has been involved on the international front working with disabled people's organizations and governments around the world to advance the human rights of disabled people,"
explains Ashley Davis, executive director of the Permobil Foundation. "The impact she has had, and the lives she has improved, make her a true hero in our eyes!".
The admiration is mutual: "Permobil enables individuals to be active, contributing members of society thanks to their many products," says Judy Heumann. "That is very important because it's helping to break society's image of what they think of disabled people." Heumann is all about breaking down barriers and is widely known as the "mother of disability rights". Learn more about her efforts in her memoir, "Being Heumann", that was published last year. She was also in the award-winning movie "Crip Camp" and has a monthly podcast.
The Hero Award has been given every year since the launch of the Foundation in 2017. The recipient is nominated and voted on by the Foundation's Board of Directors and is its highest honor. Past recipients include: Steve Gleason, Eric LeGrand, Rhonda Clark, Todd Stabelfeldt, and Charlie Ray Howell.
Since 2017, the Permobil Foundation has assisted over 3,400 individuals with the gift of mobility and the money raised at the gala is a large part of achieving that. Thanks to the in-person and virtual auction, the generosity of the attendees, and the support of the many sponsors, the Roll the Dice Foundation event raised over $101,000 at this year's event. Top sponsors included: U.S. Rehab, Permobil, National Seating & Mobility, and many others. For a full list of sponsors, please click here.
The Permobil Foundation is dedicated to enhancing the quality of life and independence by providing support and services so individuals can live a life without limitations.
See photos of gala and award presentation here, photo credit: Blu Sanders Photography.
To see photos of the entire evening, please see the Foundation's Facebook album here.
Watch TEDx Talk with Judy Heumann here.
For more information, please contact:
Ashley Davis, Executive Director Permobil Foundation
Tel: 615-973-4644
Email: ashley.davis@permobil.com
About the Permobil Foundation:
As the philanthropic arm of Permobil, the Permobil Foundation believes that regardless of disability, every individual deserves a chance to reach their dreams without limitations. Dedicated to enhancing the quality of life by empowering strength and independence through community support, employee engagement, and working in partnership with non-profit organizations, the Foundation provides support and services through the gift of mobility. For more information, visit PermobilFoundation.org  
About Permobil:
Permobil founder Dr. Per Uddén believed that helping individuals achieve the greatest level of independence is a basic human right and, for over 55 years, that has been the driving force behind our innovative assistive technology. Permobil is a trusted leader of advanced healthcare solutions because we are dedicated to understanding our users' needs and improving their quality of life. These solutions include power wheelchairs, seating and positioning products, power assist, and manual wheelchairs. Permobil is part of Patricia Industries, a subsidiary of Investor AB and is headquartered in Sweden. Permobil has 1,600 team members in more than 15 countries around the world. For more information regarding the company's storied history and complete product line visit permobil.com.
Social Media:
Facebook: @PermobilFoundation
Twitter: @PermobilCares
Instagram: @PermobilFoundation
#PermobilCares
_______________________________________________________________________ 
Contact: 
Sheri-Lynne Ljucovic, Marketing Communications Manager, Permobil Americas
Cell: 905-758-9110, Email: sheri-lynne.ljucovic@permobil.com