Retired adaptive equipment employee now battling ALS receives gift of mobility from Permobil Foundation
Retired adaptive equipment employee now battling ALS receives gift of mobility from Permobil Foundation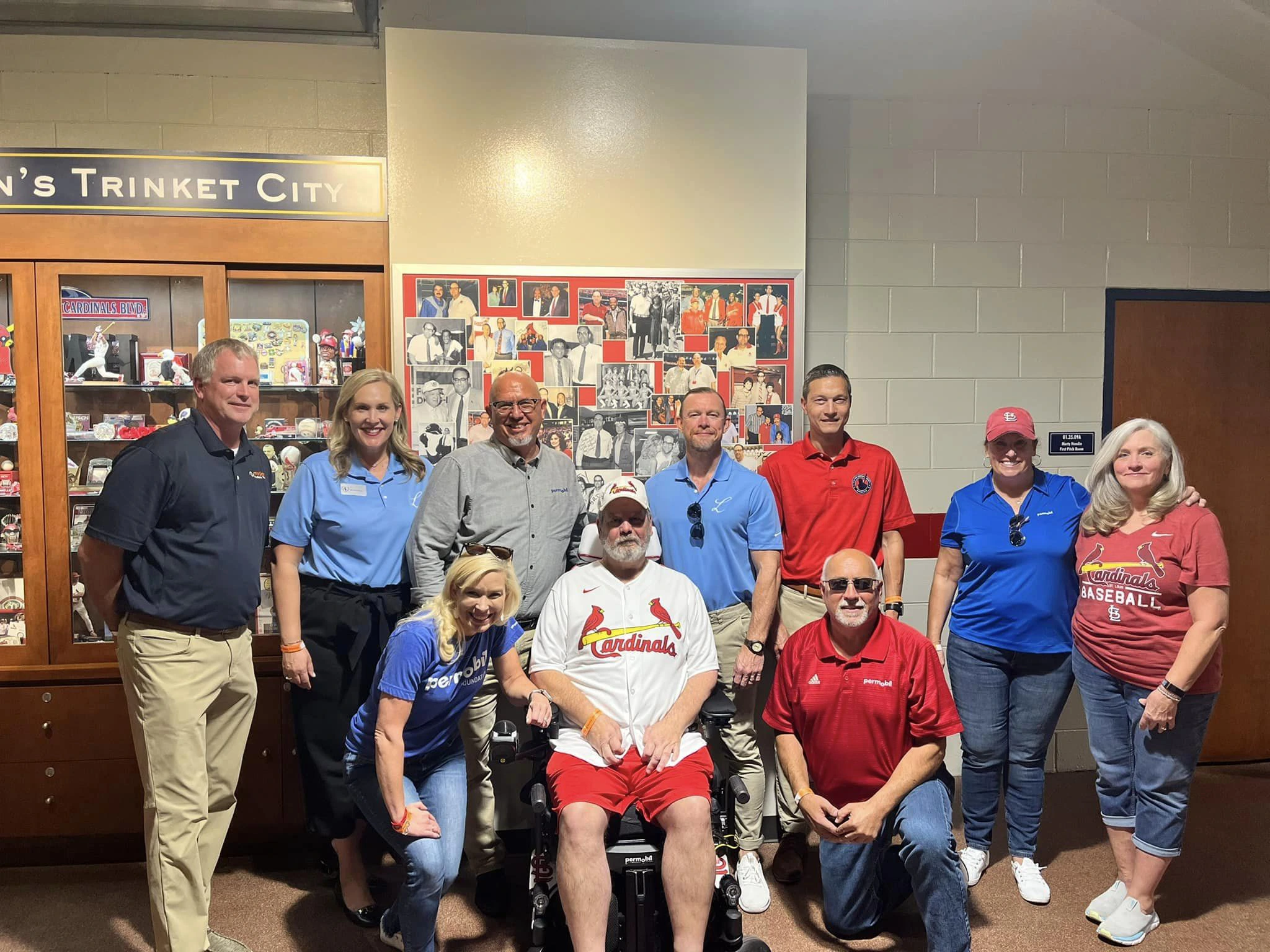 P R E S S  R E L E A S E   
Retired adaptive equipment employee now battling ALS receives gift of mobility from Permobil Foundation 
At the Cardinals game last night, a specially branded power wheelchair was presented to Alan Brown.
Nashville, TN, September 14, 2022 – In partnership with the St. Louis Cardinals, LiveLikeLou, Phi Delta Theta, and Cardinals Care, the Permobil Foundation gave Alan Brown his own team-branded, custom Permobil M3 Corpus power wheelchair before the game started.
"Alan has dedicated his life to providing adaptive equipment to others," says Ashley Davis, executive director of the Permobil Foundation. "We were so impressed with the stories we heard from his 40 years at BraunAbililty, like crafting custom wheelchair solutions or his weekly trip to the VA to hand deliver prosthetics to veterans. Now we can help him in his time of need."
In October 2020, Alan was diagnosed with ALS (commonly known as Lou Gehrig's disease) and was truly humbled when his new wheelchair was revealed: "I can't explain what this means to me and my family. I never thought it would be me needing the chair, but now this chair will allow me to continue to do more with my family and come see the Cardinals play. In the coolest chair that I have ever seen!" he added.
"We hope this one-of-a-kind chair will give Alan the support and independence he needs to live life with fewer limitations during his battle with ALS," continues Davis. "Our goal is to ensure that every person has the right to mobility, and through impactful partnerships such as LiveLikeLou and Phi Delta Theta, we help fulfill those needs."
Special thanks to Permobil rep Tony Campanella, as well as Rob Hails from NuMotion, for assisting with this gift of mobility.
The Permobil Foundation is dedicated to enhancing the quality of life by empowering strength and independence to provide support and services so individuals can live a life without limitations. Permobil also fast tracks every ALS chair order through production to ensure each ALS patient gets their custom Permobil wheelchair without any delay.
Courtesy of Permobil Foundation, see photos of the wheelchair reveal here: Dropbox folder
About the Permobil Foundation:
As the philanthropic arm of Permobil, the Permobil Foundation believes that regardless of disability, every individual deserves a chance to reach their dreams without limitations. Dedicated to enhancing the quality of life by empowering strength and independence through community support, employee engagement, and working in partnership with non-profit organizations, the Foundation provides support and services through the gift of mobility. For more information, visit PermobilFoundation.org  
About Permobil:
Permobil founder Dr. Per Uddén believed that helping individuals achieve the greatest level of independence is a basic human right and, for over 50 years, that has been the driving force behind our innovative assistive technology. Permobil is a trusted leader of advanced healthcare solutions because we are dedicated to understanding our users' needs and improving their quality of life. These solutions include power wheelchairs, seating and positioning products, power assist, and manual wheelchairs. Permobil is part of Patricia Industries, a subsidiary of Investor AB and is headquartered in Sweden. Permobil has 1,600 team members in more than 15 countries around the world. For more information regarding the company's storied history and complete product line visit permobil.com.
About LiveLikeLou:
The LiveLikeLou Foundation is committed to making an impact on ALS research while it supports the children of families affected by ALS. Our impact is focused on facilitating learning amongst ALS researchers, supporting innovative research centers, and giving children of ALS families life-enhancing experiences and financial assistance as they pursue higher education dreams.
About Phi Delta Theta International Fraternity:
Phi Delta Theta presents the Lou Gehrig award annually to a Major League Baseball player who best exemplifies the giving character of Hall of Famer Lou Gehrig, a member of the Fraternity's Columbia University chapter. The award was first presented in 1955 and is permanently maintained at the National Baseball Hall of Fame and Museum in Cooperstown, New York.
About Cardinals Care:
Cardinals Care was established to give fans a way to team up with Cardinals players and the organization to help children in our community—both on and off the baseball field.  Established in 1997, Cardinals Care has invested over $29 million to support St. Louis area children, built or renovated 24 youth ball fields in local under-resourced neighborhoods, and distributed over $15 million in grants to non-profit organizations.  To learn more about all of Cardinals Care's programs visit cardinals.com/community and follow @CardinalsCare on Twitter.