/

Permobil's newest wheelchair enables mid-wheel drive users to benefit from power standing
Permobil's newest wheelchair enables mid-wheel drive users to benefit from power standing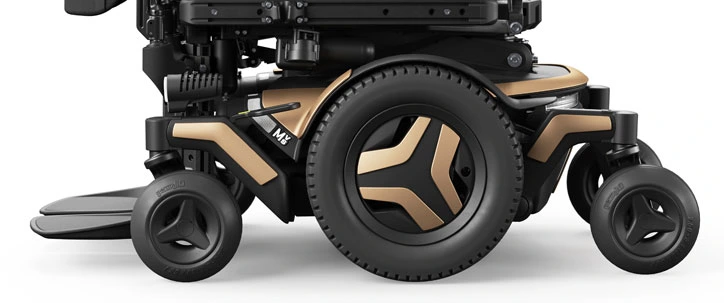 The M Corpus VS provides best-in-class power standing with the maneuverability of a mid-wheel drive base, along with redesigned swing-away knee supports and easier programming
Nashville, TN, (May 15, 2023) – Permobil's new M Corpus VS wheelchair is leading the way with multiple innovations to benefit individuals who need power standing.
"We've helped thousands of people to stand for more in the last 45 years," says Chuck Witkowski, president of Permobil Americas. "Our front-wheel drive F5 Corpus VS wheelchair is our flagship chair, and we've used the same cutting-edge technology, ergonomic design, and customizable standing in our newest addition – the M Corpus VS. So, whether you prefer front- or mid-wheel drive, now everyone can benefit from Permobil's best-in-class power standing."
Audra Watt, vice president of marketing, agrees: "The majority of power wheelchair users are using mid-wheel drive, and our M3 is one of our most popular models. When someone needs to stand and prefers a mid-wheel drive – now Permobil has a solution for that!"
The team at Permobil is passionate about the end user's experience. "All Permobil power wheelchairs have active suspension for comfort in any position, even elevation or standing," states Watt. "We're the only company that doesn't lock out our suspension because we want end users to have a smooth drive experience. We even created a new DualLink suspension just for the M Corpus VS to optimize stability in standing for mid-wheel drive."
Permobil also took this opportunity to redesign the knee supports necessary for standing and have created a lightweight swing-away option that is 75% lighter than the original single-post design. "Our R&D teams from power and seating & positioning worked together to make this reimagined knee support that includes a BOA® dial system to fine-tune adjustments for an ideal fit," explains Watt. "We are especially excited with how the release mechanism is designed for a variety of hand functions, so wheelchair users can independently place or remove them as required. The new knee supports have convenient on-chair storage along the seat rail for when they aren't being used but can still be kept close at hand."
"The medical and functional benefits of standing, as well as access to all power seat functions, are so important to our clients and clinicians," states Ashley Detterbeck, DPT, ATP/SMS, regional clinical education manager at Permobil. "Permobil's great standing programming that clinicians and providers have come to love and appreciate can now reach a wider group of clients with mid-wheel drive."
Permobil is making this power wheelchair programming even easier thanks to a new intuitive app called QuickConfig. Designed for equipment providers and clinicians with a variety of experience levels, this wireless programming app works on Permobil power wheelchairs equipped with Power Platform electronics. The in-app visual allows for quick customization of memory seating and standing positions, while drive performance and other wheelchair preferences are easily optimized with the new modern programming interface.
"All of these innovations are such a testament to the amazing team at Permobil," adds Witkowski. "They were dedicated to creating and developing these products, even during a global pandemic, so we could provide even more mobility solutions for our end users."
The M Corpus VS is now widely available for demonstrations and can be purchased as of June 15th. 
Learn more about it here: https://hub.permobil.com/standing
M Corpus VS image library is available via Dropbox: Click here
Access Permobil's White Paper on Standing here: https://hub.permobil.com/white-paper-power-standing